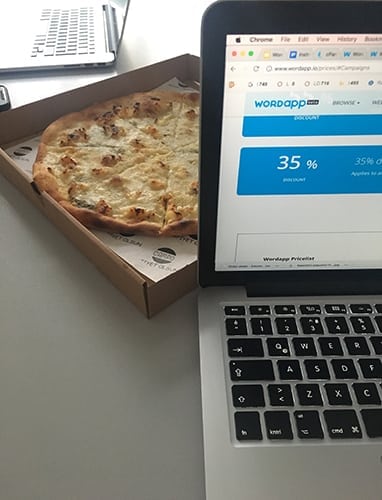 It is happening! As we mentioned before, we are launching self service. This will allow you to order content according to your needs, even easier and faster than before. In order for the team to become masters of self service, we have practiced, and practiced and practiced. Who do you think has been our guinea pigs? Our beloved family and friends of course. We already thanked you with pizza and here comes another thank you. You did a great job!
Workshop – set up a WordPress using Wordapp
After trying out different ways of onboarding our friends to Wordapp we have come up with the perfect workshop. The purpose of the workshop is to onboard existing and new clients. The workflow of Wordapp makes your content production process lean.
Do you want to have access to self service?
We are currently onboarding some of our most experienced clients. In no time, we will launch self service for all clients. Keep an eye open on our blog and your email for more information. You are always welcome to contact us with the live chat or through your contact person at Wordapp.