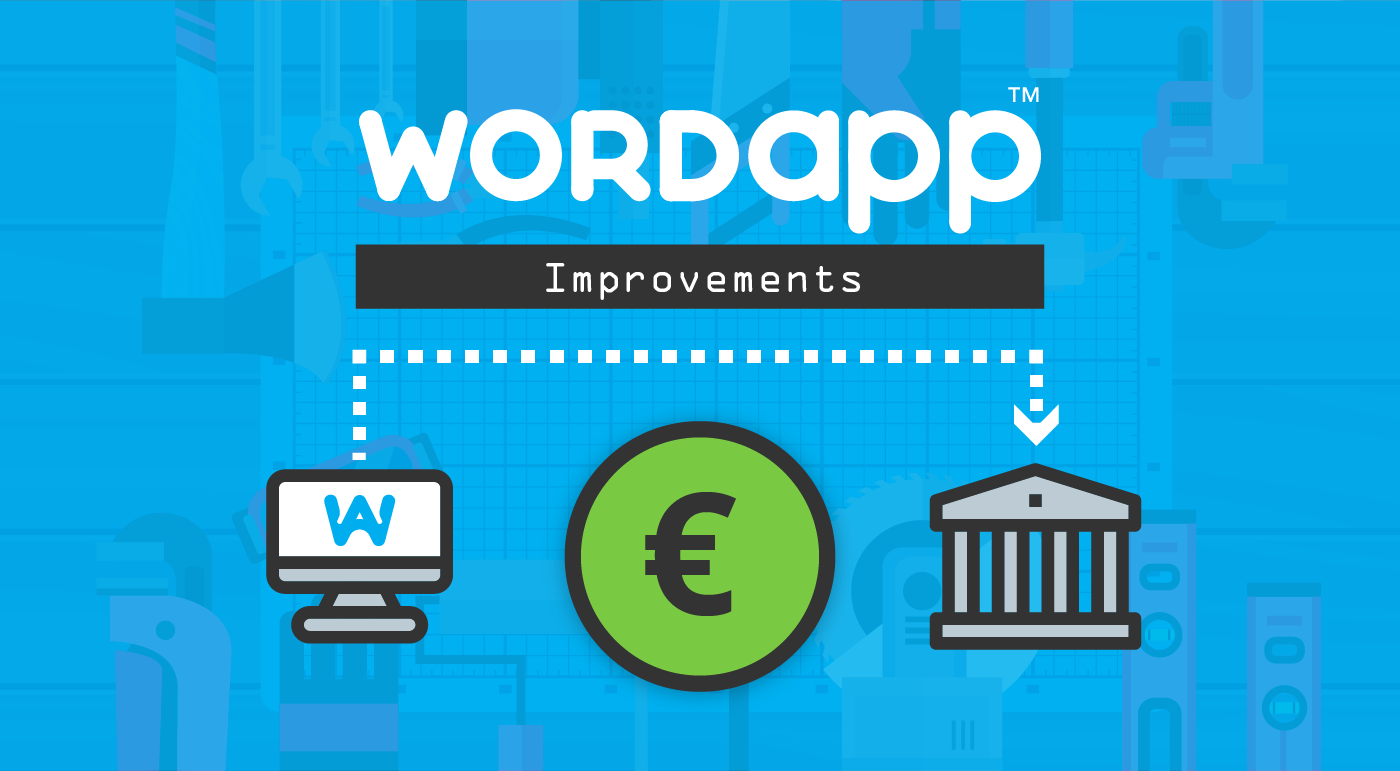 Wordapp Improvements 2 February 2018
To make Wordapp an even better experience for you, we regularly update the app. Our updates include new features, performance improvements, and bug fixes. Below is a description of the latest features and bug fixes we have been working on for you from Sprint 69!  As always, thanks for using Wordapp!
Wordapp Payments – Do it yourself!
As of now, we have an exciting new feature for you that allows you to withdraw your Wordapp Balance via Bank Transfer and Wire Transfer! We recognized the value of this convenient feature for our users, and made sure we developed an easy and secure method for them to withdraw their money from Wordapp! But we will not stop here. In addition, we are working hard to integrate Paypal as an additional payment method for our users to use. This should be ready in approximately 2 – 5 business day! So, Paypal is coming soon!
One important note: For this release, once you choose your bank transfer's country you won't be able to change it! After you set up your Invoice Profile for the first time, Wordapp prompts you to set up your Payment Method according to the country you choose. When you finish setting your payment methods, voila!, you can withdraw your money on your own!
Invoice Profile and The Invoice
This isn't a new feature but we would like to mention the Payment Setting one more time to make it more clear. We changed "Payment Settings" to "Invoice Profile." So look for Invoice Profile when you to set up your invoice information.
Also, we made some small changes to the invoices too. Payment method is noted at the bottom of your invoice. In addition, we have improved the invoice layout by putting the summary on the first page instead of last.
Minor Improvements
Bug Fixes
Integer numbers in invoice report convert to double.
Subtotal is displayed in the total column in invoice report.
Lower Case Name Problem in Invoice is solved.
Payment Panel Layout fixed minimum width.
Users should not be able to share the same Paypal account.
Payment panel – offline services tab: select default selection as Wordapp B.V
Payment approve list – add link to user profile
A bunch of general bug fixes and performance improvements.