Wordapp Improvements 29 August 2017
Thanks for using Wordapp. To make Wordapp an even better experience for you, we regularly update the app. Our updates include new features, performance improvements, and bug fixes. Below is a description of the latest features and bug fixes we have been working on for you!
Now you can see all tasks, we have nothing to hide!
We thought you might like to see that there is a lot of work being done on Wordapp. S0, we designed it so now all users roles will be able to see all tasks in the languages they choose.
Get the right task difficulty level based on your user level
Now all tasks are now ranked accordıng to their difficulty level. This is important because now a user can only take a task whose difficulty level matches their role's level. We did this so that user can be more efficient and have more fun writing and editing tasks that are suitable to their level. Note that for users blocked in a specific language, they will be able to see all the tasks in that language, but will not be able to take any until they are unblocked.
Example of how Task Difficulty works in the Task Feed:
Easy Task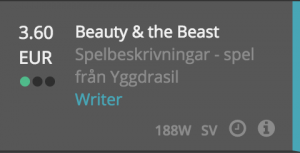 User role level 1 – 6, can only take easy tasks
Medium Task

User role level 7 – 8, can take up to medium difficulty tasks
Difficult Task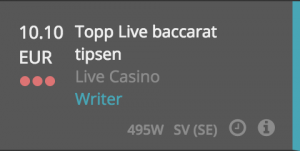 User role level 9 and above can take up to advanced difficulty tasks
HELP!
Mayday! Mayday! We know when you first start using Wordapp, it can seem like a very steep learning curve. That is why we have created the Wordapp Help Center. When you need help, or you want to learn more about Wordapp's functions and features, surf on over to our new Help Center.
Don't have time to browse our Help Center for the answers you need? In addition to the Help Center, we have created an in-app user-interface context based help system — because whenever possible, we think help should just one click away. Now you will probably notice help icons place strategically in the UI.
Here are a few useful examples:
Levels Help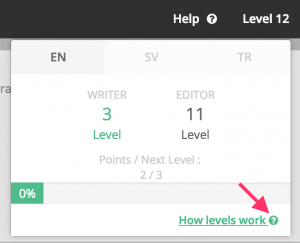 In the Levels Panel, you will find a new help icon that links to the Levels help section.
Balance Help


In the balance section, there is now a help icon that links to the Balance help section.
Help Center Menu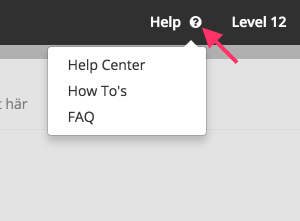 You can find the Help Center main page from the help icon in the main menu. There are also handy links to our How To's and FAQ.
Bug Fixes
Manager/Publisher preview bug fixed – Publishers and Managers can now see the preview of the approved or published tasks
A bunch of general bug fixes and performance improvements
---
A Milestone Celebration At Wordapp!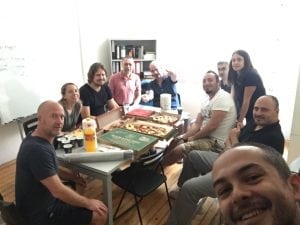 It's been an exciting couple of days at Wordapp! Not only did we hit a milestone of 200 active users, that were able to do 300 hours of work in one day, we also pushed a lot of great new features in the app for our users today! So, we decided to celebrate with a delicious Turkish pide (pizza) lunch.
Afiyet Olsun!