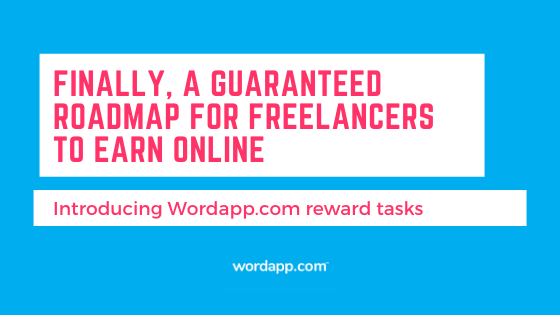 Introducing Reward Tasks
We all love the freelancing lifestyle…
But making enough money freelancing to afford the freelance lifestyle is incredibly hard.
Proving yourself as a new freelancer on Upwork, Fiverr or any other market place is very difficult. Even though you are willing to build up a profile with small assignments, there are simply not enough gigs to go around. 
That's stopping today.
We are proud to introduce reward tasks, a way that guarantees you to start earning money online with Wordapp.com.
What are reward tasks?
Reward tasks are very easy tasks in our task feed, that anyone can do from any device.
We just released surveys in 75 different countries and in the coming months, we will introduce more reward tasks and increase the volume of them on each market.
While surveys don't pay that much directly (±€4/hr), the most important part is that you earn 1 reward point for each survey that can be used to do different things depending on your freelancing goals:

Moonlighters; cashing out reward points
You want to freelance 30-60 minutes every day, mainly using your smartphone instead of checking Insta or while you commute.
Your main goal is to have fun and add a bit of spice to your life, buying the new iPhone, give to charity or taking a spa-weekend cashing in your reward points at the end of the year.
Each reward point corresponds to €0.1 – €0.2 depending on how often you cash out.

Diversified workers; easy regular tasks
You wish to have a higher and more regular income from your freelancing activities, where Wordapp.com is one of your channels and spend your reward points to get paid training tasks such as:
Blog Posts (Easy)

Product Descriptions
Content (Advanced)
iGaming Content

Website Translations
Freelance business: EWA + reseller
You want to go all-in and earn a big part of your income using Wordapp.com.
You invest time to learn how to become an Elite Wordapper (EWA), an expert at SEO and how to build WordPress websites and develop lead generation websites where you will earn a regular and semi-passive income.
How to start earning reward points?
Step 1 – Follow the steps here to start getting surveys.
Step 2 – Complete at least 10-20 surveys to get invited for 3 x paid easy tasks (see table below).
Step 3 -Bonus! Complete 30 surveys for a free PayPal transfer.
Spending points: onboarding trials
(More onboarding skills on the way)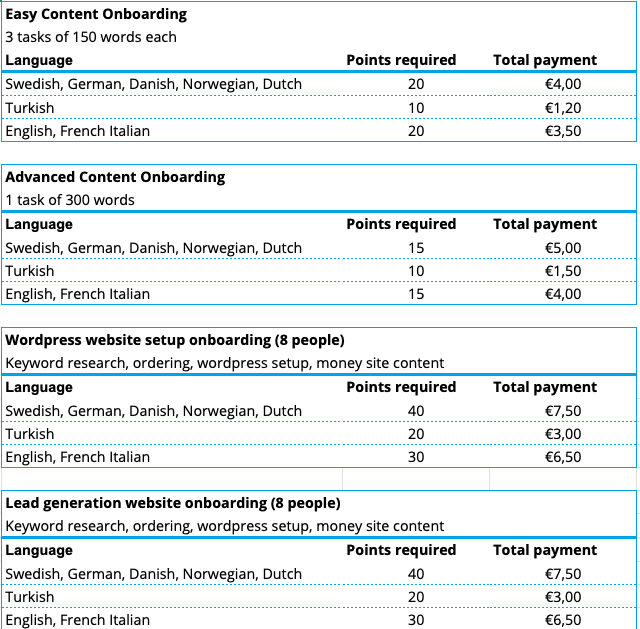 What happens once you have completed the onboarding trials?
One of three things happens once you have successfully completed the "trials":
You get invited to a private project by the EWA that trains you (Elite Wordapper) if they like your work.
Wordapp.com assigns you a lead generation website to develop and if you succeed, you will start making a regular income.
You don't make it the first time and simply earn more reward points and try again.