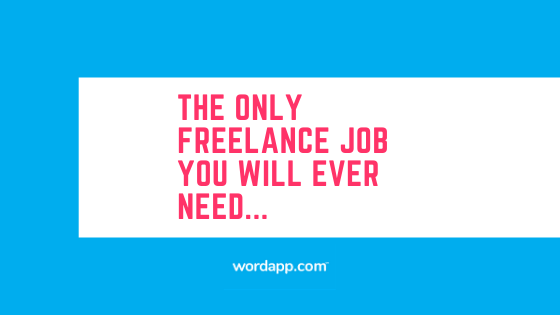 The only freelance job you will ever need…
It's almost 12 months ago that -by coincidence- everything we had been working on until then became clear. While I was on holiday a new client reached out to Wordapp and Jorn took the call. All excited he called me afterwards. 
They needed to build a lot of websites and he insisted I put everything else on hold and meet them in Stockholm. I'm happy I did.
Now, nearly 12 months later, we have not only built 1000's of websites, but we have also totally reinvented the Wordapp.com platform for businesses and freelancers.
In less than 12 months we have introduced new features such as: 
And now with the new website marketplace we're launching, Wordapp.com is the only freelance job you will ever need. 
The future of freelancing: why Wordapp is the right place
In the next 7 years, 100 millions of people from the traditional workforce will become full-time freelancers. And although traditional gigs like translation and writing product descriptions are increasingly getting replaced by machine writing, higher-skilled gigs like building websites that generate leads are here to stay. 
In the same period, over 90 million small businesses will go online to get new clients. Service businesses like hair transplantation clinics, dentists or companies doing badrumsrenovering represent one-third of those. Each increasing their revenue up to four times when they go online. 
But going online is not easy and they need help, lots of help…
Wordapp.com helps both the businesses and the freelancers to make money online. 
How we help businesses and freelancers to make money online?
WordPress made easy
The 30 million service businesses all need an online presence – a website. Even though there are tons of different website builders out there, it's time-consuming to for a service business build a website. 
That's where you, as a freelancer, come in.
WordPress is the one platform to rule them all, powering an astonishing 34% of the Internet. 
Using our free website manager, marketplace and onboarding you are able to earn by: 
Selling websites you build

Selling sponsored posts on sites you own

Building websites for service businesses

Upgrading and optimizing websites of clients
Leads made easy – build your own affiliate business
However, what small businesses really need are not websites but new leads (prospective clients). With the lead generation websites that you can build and list on our platform, you can earn the most as a freelancer.
Using our unique LAAS-model and the Wordapp.com platform we make it easy to: 
Find clients for your leads

Get paid for each lead and invoice

Serve and track the number of leads by phone, WhatsApp, email or forms

Assure the quality of leads for you and the client

Monitor uptime, track SERP and provide analytics data  

How do you get started? 
Depending on your experience we have 4 different programs
#1 New freelancers
You are new to freelancing and are not ready to quit your daytime job or spend too much time on figuring things out yourself… 
Spending just 20-30 minutes a day earning reward points you will gradually learn the skills and make money at the same time using our guaranteed roadmap to freelancing.  
Blog Posts (Easy)

Product Descriptions

Content (Advanced)

iGaming Content

Website Translations

WordPress
Go to the task feed now to get started.
#2 Experienced freelancer – fast track
You are a professional freelancer or about to go professional and already know how to build WordPress sites and how to write great content for the web, but:
You need more work

You need help increasing your earnings/hour

You need help generating passive income
Through our fast track program, you earn 30% rev-share lifetime on the sites where you write the content, build and maintain the websites and we pay for everything like:  
Coaching and templates

Domains and themes

Hosting

Lead tracking

SERP tracking

Keyword tools

Sales
Go to the website manager and list at least one WordPress site that you own to get fast-tracked. 
Note. Our fast track program is currently the only way to become an Elite Wordapper. 
#3 Affiliate – list your sites
You already have websites and are just looking for more channels to monetize them. Listing them is free and 100% anonymous and you only pay a commission (currently 20%) when you make an actual sale.
#4 Elite Wordapper
You have completed our fast-track program and you are earning lifetime rev-share on several sites but want to do even more. You want to earn by helping other freelancers and businesses earn money using Wordapp.
What do you think?
Let me know what you think in our chat, just ask for Cem.  
/Cem
Founder & CEO at Wordapp.com